Updated to 1.2: Lots of little updates, but the biggest change is that it's now free! Read the Release Notes for details.
I've been informed that the buzzers that come with the PlayStation 2 game "BUZZ" work great with Questionable. For about $40 you get four buzzers, and a free PS2 game! Click here to buy it from Amazon (I get no money from this).
Introducing Questionable
Now you can use your Mac to create questions for your own quiz show for fun and education. Just start it up and connect some spare USB mice, gamepads, joysticks or keyboards to use as buzzers and you're ready to go.
Its elegant graphics and smoothly animated game board make it perfect for the classrooms, parties, or corprate training.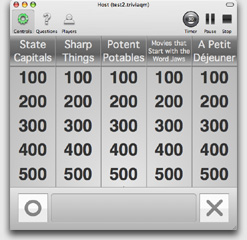 Type up your own or trade question files with friends.
Supports up to five categories.
Add as many players as you want.
Use any USB mouse, gamepad, joystick or keyboard as a buzzer.
No complicated setup. Just have the player press their button to assign their buzzer.
Works best with a secondary display.
Go ahead and download Questionable and try it out. It's free!
Screenshots
Click for a larger version.